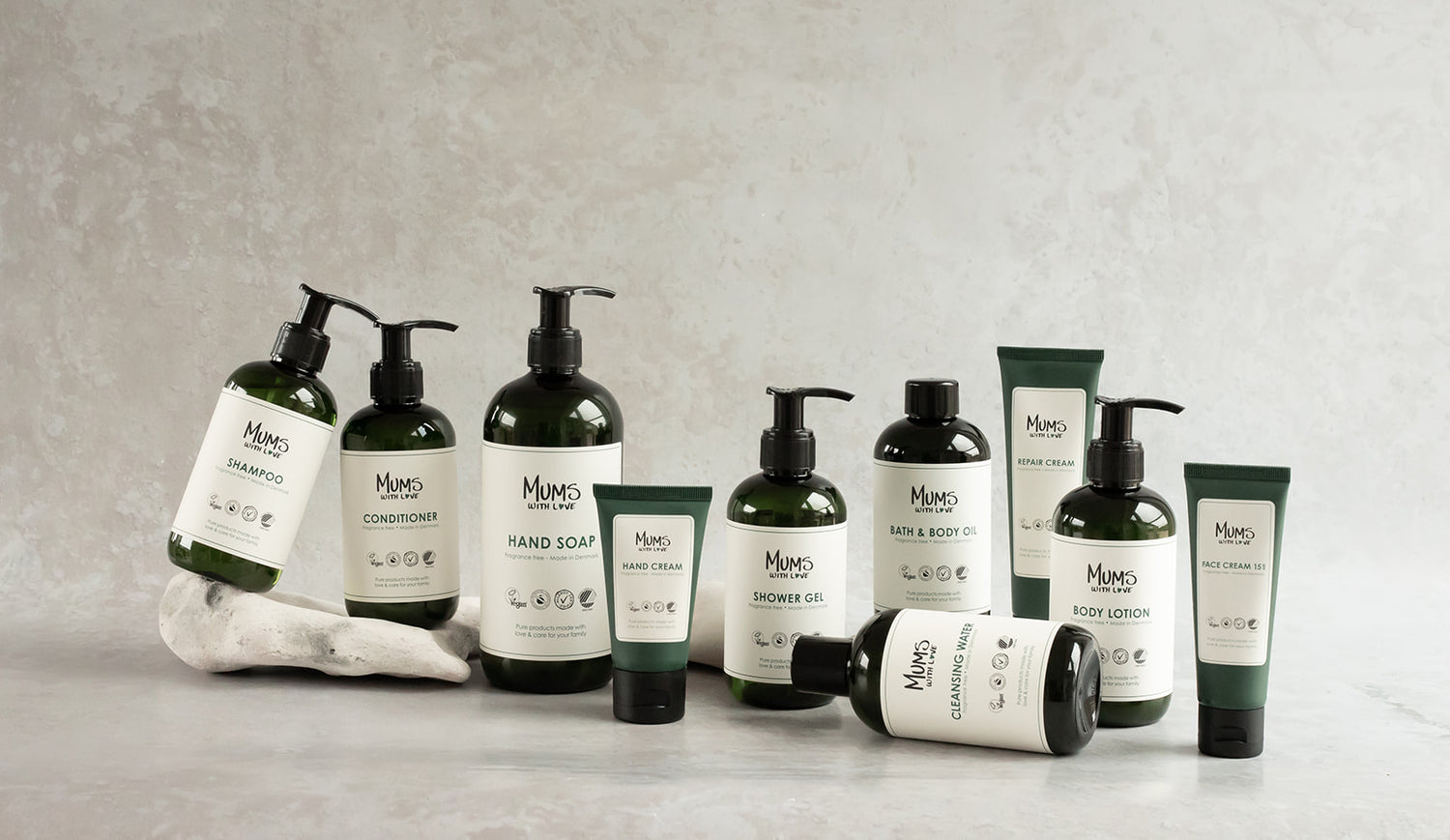 Collapsible content
Allantoin

Extracted from the root of coal sugar (Symphytumofficinale). Works as a reliever and promotes natural cell division. Especially good for sensitive and damaged skin. Has been used for a long time in folk medicine, i.e. as a shortcut to healing a wound. Is at the same time gentle and soothing to the skin.

Aloe Barbadensis Leaf Juice

Soothes and relieves redness and irritation.
Benzoic Acid

Natural preservative. Also used in food.
Butyrospermum Parkii butter

Commonly known as Shea Butter. Extracted from the nuts of the Shea tree, which has a softening and moisturizing effect on the skin, so it stays elastic and does not dry out. High concentrations of fatty acids as well as various vitamins that give it anti-inflammatory and healing properties.
Capryl/Capric Triglyceride

In skin care, caprylic / capric triglycerides are most often used for its emollient properties. Natural fat. Protects the skin from water loss and increases the lubricity of creams and lotions.
Ceteareth-12

Plant-based fat that binds oil and water phases together.
Ceteareth-20

Plant-based fat which helps to get other substances to reach deeper into the skin, where these substances work best.
Cetyl alcohol

Is a moisturizing ingredient that has a healing effect without clogging the skin's pores. Extracted from plants.
Cetyl palmitate

Plant-based fat that helps smooth and treat the skin. In addition, it also limits the loss of moisture in the skin.
Citric Acid

Natural citric acid which regulates the PH values.

Cocamidopropyl Betaine

Provides a mild cleansing effect that removes dirt and grime from your skin. However, the effect is so mild that it is often used for baby products.


Cocos Nucifera Oli

(Coconut Oil). Softens the skin and adds moisture and suppleness. The oil makes it good for dry, itchy and sensitive skin.


Decyl glucosid

A glucose based surfactant used in shampoo.
Dehydroacetic Acid

An organic ingredient. Used as a preservative. Mild sulphate of saponified coconut or palm oil.
Ethylhexyls Stearate

An emollient derived from vegetable oil, which prevents water loss. It has an emollient effect on the skin. In addition, it adds fat to the skin, which improves the skin's elasticity and suppleness. The fats form a protective film on the skin, which reduces evaporation.
Glycerin

A vegetable moisturizer extracted from coconut. Glycerin provides optimal moisture to your skin because it both adds and binds moisture. At the same time, it has an emollient effect.
Glyceryl stearat

A vegetable stabilizer/consistency enhancer. Derived from palm and coconut oil.
Coconut Seed Oil

Nourishes the skin and leaves it supple and soft.
Magnesium Sulphate

Naturally mineral salt with a stabilizing effect that provides moisture to the skin.
Natrium Benzoat

A substance that inhibits bacterial and fungal development. Also used in food.
Natural Vegetable Olus Oil

Gives a long-lasting feeling of well-being on the skin and has an emollient effect.
Natural Vegetable Rasp Seed Oil

Oil that has an emollient effect on the skin.


Natural Vegetable Coconut Oil

Oil that has a softening effect on the skin.
Panthenol

A moisturizing vitamin B5, which is extracted from vegetable raw materials. A natural substance that is often used in wound ointments.
PEG-30 Dipolyhydroxystearat

Works as a water/oil emulsifier
Phenoxyethanol

Phenoxyethanol is the most frequently used preservatives in personal care products to prevent bacterial and fungal growth in the product so it can last longer and is safe to use.
Sodium Benzoate

A substance that inhibits bacterial and fungal development and which is also used in food.
Sodium Chloride

Ensures that the product gets and keeps the right consistency
Sodium Laureth Sulfate

Washing agent that deeply cleanses the skin.
Tocopherol

Natural vitamin E, which is a protective antioxidant and gives your skin plenty of moisture. (Natural antioxidant).

Water

Carrier to bind the ingredients together.